Deactivate the auto standby of the KRK Rokit Studio Monitors G3
I recently bought the KRK Rokit 5 G3 studio monitors which are a great product in general but the auto standby feature after 30 minutes can be pretty annoying. Therefore I read several posts in the internet and did quite some research. There might be an option to open the monitors and fix them with a hardware fix but a forum post inspired me to write a small windows executable that will play a 10Hz sound for 500ms every 25 minutes. Usually one can not hear a 10Hz sound so this happens without even noticing but keeps the KRK Rokits from going into standby.
Update (New version 1.0.4.0)
Changes:
Added capability to play wav file. Check the respective checkbox and the wav will be played instead of the tone that would be generated by a function generator. It comes with a wav file that has a frequency of 10Hz. The form shown below:

Please use the program on your own risk. No detailed testing done so far. Appreciate every input and ideas for improvement. To the mac users: I apologize but as I am Windows user forever no high hopes for a mac version soon. The Java version (RMAS2) will not be maintained in the near future.
Update (New version 1.0.3.1)
Minor changes:
Fixed problem that RMAS will prevent Windows to shutdown.
Update (New version 1.0.3.0)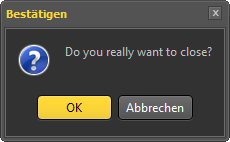 Minor changes:
Added warning when exiting the program, thanks Al for the feedback!
Update (New version 1.0.2.1)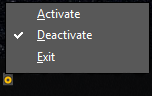 Minor changes:
Systray Icon now shows all te time even if main window is shown.
Systray Icon right click shows Menu. Deactivate stops the timer, Activate starts the timer and Exit, well.. 🙂
Update (New version 1.0.2.0)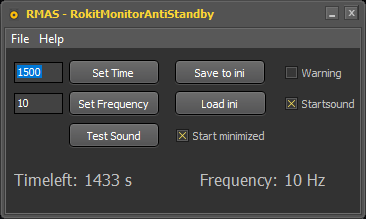 Changes: Please check changelog.txt within .zip file
Update (New version 1.0.1.0)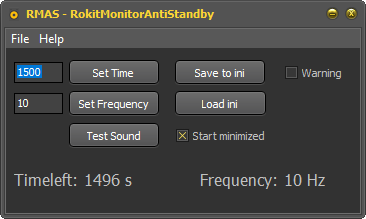 The application RMAS – RokitMonitorAntiStandby
This is a very simple application and today's first test is promising so far. The window can be minimized into the system tray and will work in the background. There is a noticable sound when playing the 10Hz sine wave for 500ms. This seems to appear when starting and stopping the sound. You can test the sound by clicking on the Test Sound button within the app. Below a screenshot of initial version: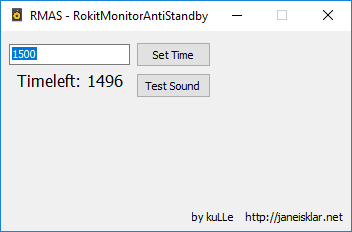 Please note that you might need to tune the system volume to a higher level and decrease the volume for the applications that you are running below the -50db threshold were the Rokits deactivate. Therefore if the over all sound level is too low this app won't help.
More features in development
If you have ideas what might be useful for future versions, please feel free to add a comment!
Note:
Please use this application on your own risk! I won't take any responsibility on broken hardware or software. For me it works without issues but decide yourself if you want to give it a try.